Major stock indices that are correcting (a drop of 10 per cent plus from a recent peak), or in a bear market (a 20 per cent plus drop from a peak) often have large rallies.
We witnessed one on Monday when stocks staged a dramatic turnaround after some panicky investor behaviour.
But was that it? Is the worst over and it's safe to go back in the water? Unlikely.
Strategists at Stifel beleive there are five factors that need to be in place for a market bottom to occur, and that may be a few months away.
Read the Stifel team's commentary and observe their detailed and helpful charts.
**
by Barbara Kollmeyer, Marketwatch
Our call of the day comes from a team of strategists led by Barry Bannister at Stifel.
The strategists are calling Monday's late rally a "head fake," saying investors need five things to happen for stocks to bottom (they don't see this happening before late first quarter 2022) and the bull market to resume, and none of them look viable right now.
One. A more dovish Fed, which would likely lower the 10-year Treasury Inflation-Protected Security real yield that has been pressuring growth stock price/earnings ratios.
That's unlikely before the markets get the first rate increase.
Two. The U.S. purchasing managers index (PMI) for manufacturing index must bottom, which Stifel doesn't see happening before April.
Often, the annual PMI index change correlates with or leads year-to-year S&P 500 price, earnings per share and industrial production.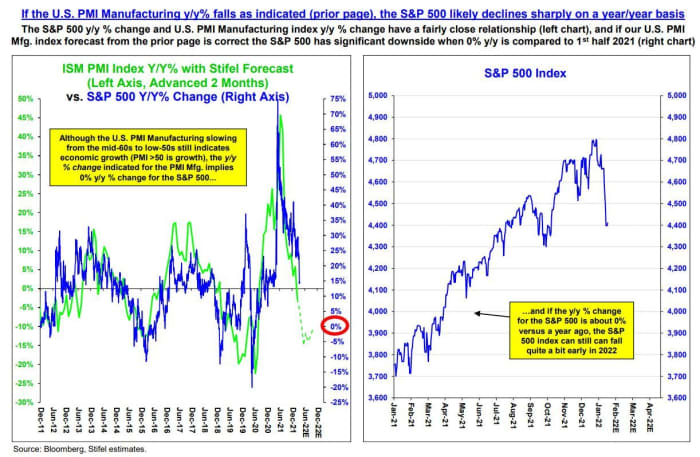 Three. Global M2 money supply — that's money held by the public — must bottom, and again this is unlikely until China's currency weakens.
"China is 37% of global money supply in dollar terms and a weaker Chinese yuan would send the dollar up and growth in global money supply in dollar terms down, tightening U.S. financial conditions and lower the P/E ratio for the S&P 500.

So the next "shoe to drop" is a weaker yuan."
Four. S&P 500 quarterly EPS "beats" minus "misses," which have weakened since the second half of 2021 and have been pressuring stocks, need to calm down.
"When EPS beats minus misses are under pressure, in this case falling below the long-term trend (blue line), investors in the S&P 500 must learn to live with diminished policy support while also being subject to a lessening of the year/year change in S&P 500 price."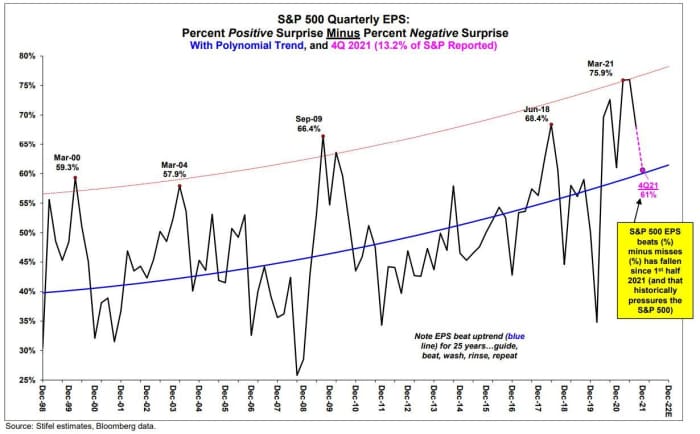 Five. That geopolitical mess to the East must be settled without hurting U.S. consumers.
"Ukraine events will matter: the West retaliating against a major global energy producer like Russia over possible Ukraine events may lead to a sharp decline in U.S. after-tax income after deducting household food & energy costs," as shown in the below chart."
And when that happens, the Senate and U.S. House of Representatives are usually lost for the party in power."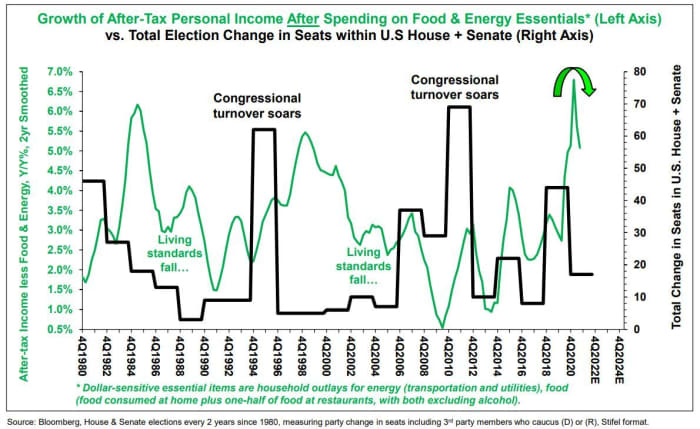 "Russia has designs on eastern Ukraine only, and has the "non-dollar reserves, power over EU energy flows, popular support in Russia and firepower to accomplish their goal of a USSR-style buffer zone separating them from the West."
Stifel admits it messed up with a summer 2021 correction call, but in December it forecast the S&P 500 would hit 4,200 by the first quarter (it hit 4,230 on Monday, recommending investors take shelter in defensives and clear out of cyclicals.
It also warned that the Fed losing its nerve on rate increases could lead to "the third bubble in 100 years."
**
Related stories:
Bubble Spotter Grantham on What to Do Now As "Wild Rumpus" Begins