Capitulation.
A former colleague and I used to jokingly throw that word around the BNN newsroom in the early 2000s because it was so ubiquitous as pundits tried to pick the bottom of the market after the tech crash.
Now, capitulation – the action of surrendering or ceasing to resist an opponent or demand – is back in the headlines as investor sentiment plumbs new lows and many wonder if the worst may be over for stocks.
by Steve Goldstein, MarketWatch with files from Bloomberg and Uncommon Sense Investor
Fund manager pessimism has never been greater, according to a fresh monthly survey showing both attitudes and allocations at recessionary levels.
Bank of America's monthly poll of global fund managers, released Tuesday, showed all-time lows in both the percent expecting a stronger economy and those that expect profits to improve.
The survey series dates back to 1994.
Optimism is worse than during the 2008 financial crisis, and profit expectations are worse than they were both during the initial outbreak of COVID-19 and the collapse of Lehman Brothers.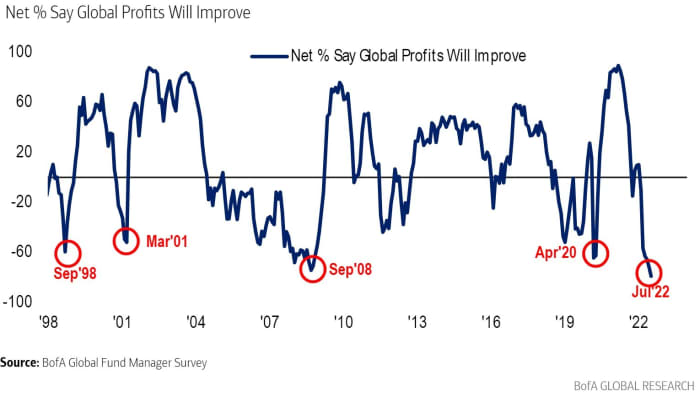 (One caveat is that these polls, similar to that of purchasing managers, measure sentiment and not magnitude.)
Cash levels were the highest since the 9/11 terror attacks, and allocations to equity were the lowest since Lehman.
Also of note, the relative allocation of stocks vs. bonds fell to the lowest since the financial crisis.
Fund managers said the most crowded trades were long the U.S. dollar, long oil and commodities, and long ESG assets, while the biggest tail risks were that inflation stays higher, global recession and hawkish central banks.
The S&P 500 has slumped 20% this year, as more speculative assets such as tech stocks and cryptocurrencies have fared worse.
The fund managers are expecting another 150 basis points of Fed rate hikes, and given a menu of options, don't expect a pivot until the PCE price index falls below 4%.
The most recent reading of the core PCE price index was 4.7%.
But investors no longer expect higher bond yields, and long-term rate expectations are at 3-year lows.
The survey was conducted between July 8 and July 15 of 293 managers managing $800 billion in assets.
Other survey highlights include:
Investors are very long cash and defensives like staples, utilities, health care, and very short stocks, particularly EU, banks, tech and consumer, while they have also cut exposure to resources.
Most crowded trades are long US dollar, long oil and commodities, long ESG assets, long cash and short US Treasuries.
Among equity regions, investors are most bearish on Eurozone and Japan.
Investors are most bullish cash and most bearish on equities.
In past 4 weeks, investors increased their exposure to bonds, staples, utilities, healthcare, while slashing exposure to equities, Eurozone, materials and banks.
Editor's note: So, does the BOA survey imply that the negative sentiment is priced into stocks and that the worst may be over?
Or do investors need to wait for the Fed to complete its tightening cycle, and it will be a grind for equity investors for a few more quarters?
John O'Connell, Chairman, CEO & CIO, Davis Rea Investment Counsel, believes it's the latter.
He thinks we've yet to see full capitulation in the market.
O'Connell says here's how you'll know the bottom is in.
"One of the best indicators of a bottom is when the only way for a broker to make money is when they admit they were wrong about the buy (the stocks they recommended) and now tell you to sell."