The sharp downturn for stocks recently has been uncomfortable for a lot of investors. But is it the beginning of the end or a short-term capitulation and reset in the ongoing bull market?
Thomas Lee believes it's the latter.
The Founder of Fundstrat Global Advisors has identified a couple of "panic events" that on the surface appear negative but are actually positive and could mean stocks in general will be higher six months from now.
Here are excerpts from a recent piece by MarketWatch about Lee's views.
**
In a note to clients, Lee explained these "panic events", starting with a 40% surge over two days for the Cboe Volatility Index, or the VIX VIX, +26.33%.
Such action, he noted, has only been seen 20 times since 1990.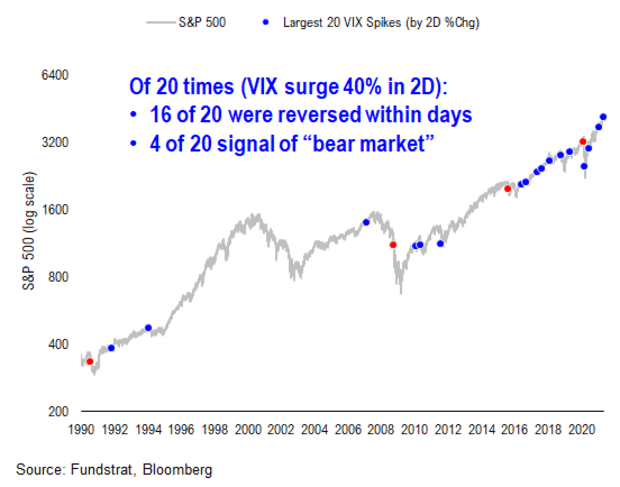 Based on similar instances of VIX spikes since 1990, "unless we are entering a recession, the VIX spike is simply a panic/reset. And this washes out investor sentiment," said Lee.
His data show that since 1990, the S&P 500 has experienced four bear-market instances and 16 bull-market instances when the VIX has seen a similar two-day surge.
The median forward return in those bullish follow-ups has been 1.6%, 6% and 8.7% on a one, three and six-month basis.
The second "panic event" also happened on Tuesday, when the NYSE Tick index, which compares the number of stocks moving up versus down, collapsed to its worst reading since 1999, dropping 2,069 points, said Lee.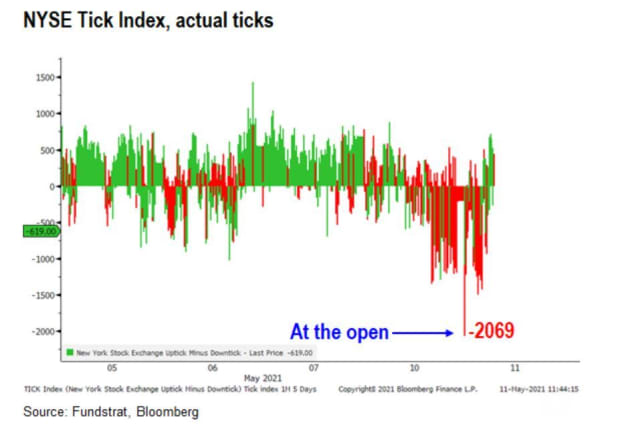 He said all nine other worst TICK readings took place during bull-market periods, with the exception of 2001, though he doesn't think markets are repeating that year, given stocks were already in a downtrend two years before that.
Here, he highlights (circled in blue) what happens after those low TICK readings: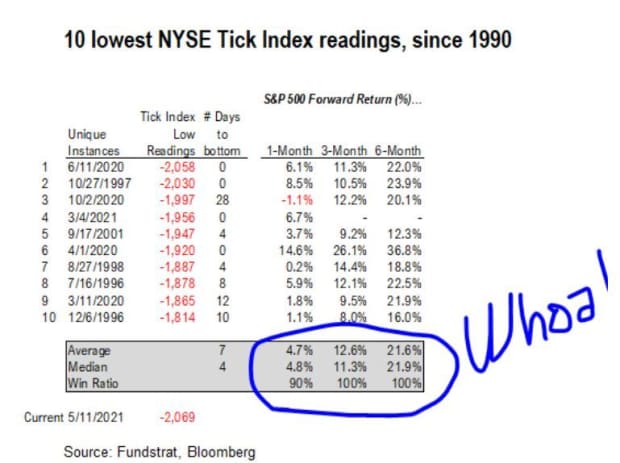 "While many investors might view Tuesday's plunge and the surge in the VIX as a negative sign, it might surprise you but these are actually bullish signals." 
Foremost, keep in mind that bull markets 'ride an escalator, and fall down an elevator,' meaning, in a bull market, stocks rise steadily and then plunge suddenly.
Thus, a VIX surge and massive negative NYSE tick reading is positive," said Lee.
If a capitulation is en route, he said, investors should rotate out of tech and into so-called "epicenter recommended areas," referring to economically sensitive companies.
Here are 10 from his list of dozens such stocks:
Related stories: Monitoring the Market Party and When it May End