Higher interest rates are supposed to be good for banks because the difference between the level at which they borrow and lend rises.
But the equation doesn't always work if the banks' costs are rising, which appears to be happening right now, especially labour costs.
Closely followed Doug Kass, President of Seabreeze Partners Management, is getting less bullish on banks.
Here are his six reasons why.
by Doug Kass, President, Seabreeze Partners Management
The Period of Bank Outperformance May Now Be Coming to an End
Bank and brokerage stocks are "over-owned" and too popular now just as industry EPS [earnings per share] progress may disappoint in the quarters ahead
I have favoured bank and financial stocks for several years but I suspect the sector's outperformance may soon come to an end.
I am not suggesting marked underperformance of banks and brokerages – just a reduced limited upside and flat to lower relative performance against the S&P Index.
There are several reasons for a change in my previously bullish position:
Domestic economic growth is already about to slow – below is the recent Empire State Manufacturing Index shortfall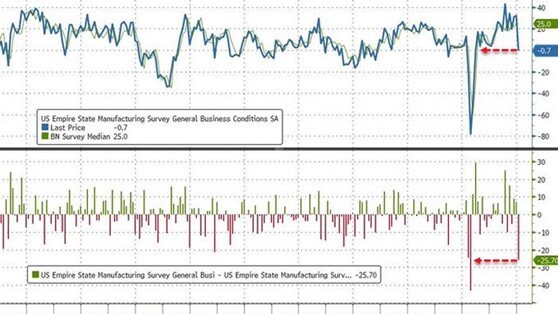 The Fed seems destined to tighten into a domestic slowdown. As a result, I expect the yield curve to flatten as a rising federal funds rate will adversely impact economic activity. (This is not good for bank industry earnings.)
The modest improvement in loan demand – seen in the last few months – will likely fizzle out if inflation remains elevated and economic growth is slowing (relative to expectations).
Banks have grown too popular and after a lengthy period of outperformance they are everyone's go-to value stocks.
As seen by Goldman Sachs and JPMorgan Chase earnings reports, growing costs have and will likely continue to threaten ambitious bank industry consensus 2022 to 2023 EPS forecasts.
After large credit benefits (and loan loss reserve releases) bank industry earnings face difficult compares during the next few quarters.
Disappointing earnings and a possible reset of valuations could be an unhealthy cocktail for financial stocks.